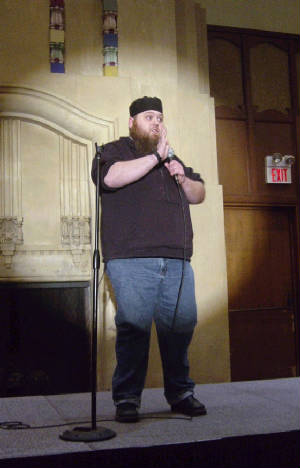 Brother Crowe,The Hillbilly Muslim
Welcome to the Website of Brother Crowe; Muslim, Comedian, Hillbilly. Thats right! I was born and raised in Eastern Kentucky, and I converted to Islam several years ago. I drive a flat-bed truck and listen to the Quran on the stereo, and to me the Sword of Islam was manufactured by Smith&Wesson. I wear bib overalls, and a kufi.And I look like Yasser Arafat and Larry the Cable Guy had a baby, then abandoned it in the Bluegrass state.
So if your intrigued, or just doggone confused, then browse on!
Please note:This site is still very much under construction, so watch for more pages,photos, audio samples and more!
My Gettin to know me List!
Favorite Band or Musician: Country
Favorite TV show: Dukes of Hazzard (required by KY Law)
Favorite movie: Walking Tall (The original, no offense to The Rock- as Wrestling fandom is also required by Ky Law)
Favorite book: The Noble Quran
Favorite food: Anything I can put Franks Hot Sauce on (Except swine)
My Hobbies and other personal doin's
four-wheeling in mud, shooting rats at the dump with a .22 rifle,memorizing the Quran,coonhunting,tailgate diving in creeks,ponds, rivers,and any other body of water that doesnt have chlorine in it.Watching truck/trailer pulls,studying hadith,eating, eating and, oh, yes eating.(Mostly anything I can shoot or slaughter and add hot sauce to)raisin' young'uns(also known as Yard Apes, curtain-climbers, tricycle engines, and rugrats)annoying my wife, spitting, prayinf to Allah (i need it!)and sitting in my lay-Z-Boy until cobbwebs grow on me.